I recall as a little kid my dad building models; he didn't build very many and they were all airplanes. That made sense as he was a pilot in WW II – a B-24 then a B-29 pilot. As such he also had time in a lot of other big four engine aircraft and the usual smaller planes as he went through his pilot training.
The war ended before my dad saw combat and he got out of the military along with many others. And like many others he was recalled for – well let's call it what it was – the Korean War and transitioned again to the B-29. Just before the air group was sent to Japan to bomb Korea my dad was posted to Greenland to fly C-124's for MATS (Military Air Transport Service). He was there for 1 ½ years and missed combat again. You can read the more complete story of his life HERE. My webpage is dedicated to my dad. He has been my inspiration in many things, including building models.
He's gone now – he passed away in 2003 – and is dearly missed. Here is a picture of my dad standing under Fi Fi – the Confederate Air Force B-29.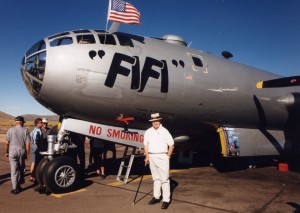 I love to read, cook, play board games, play with my grandchildren, and build models. To me spending time with my grandchildren is payback for raising 5 kids – it just fun. They laugh and smile and it just makes my heart glad. There is truly nothing like it.
I've been building models since I was about 7 years old. To me they are like another form of art, and can be a wonderful expression of one's creativity. To be able to create something lifelike out of a bunch of parts in a box that you glue together and paint is somehow very satisfying. If I can in any way inspire others to break away from computer games or garbage on the TV and indulge your creative side then that would be really cool.
If you would like to get involved in model building – check out my links page. It is a comparatively inexpensive hobby and you can do it at home and be around your family. Go to the IPMS (International Plastic Modelers Society) web page: https://www.ipmsusa.org and find a local club. We are a friendly bunch and welcome everyone – you can come and just listen at the club meetings as we bring in our latest creations (finished or unfinished) and talk about their good and bad points – it's a lot of fun.
Hope to see you there – cheers,
Paul