This is a picture of my dad when he was a cadet in the Army Air Corps. Next are pictures of my mom when she was in the Navy during WWII. Following is a short story of her life.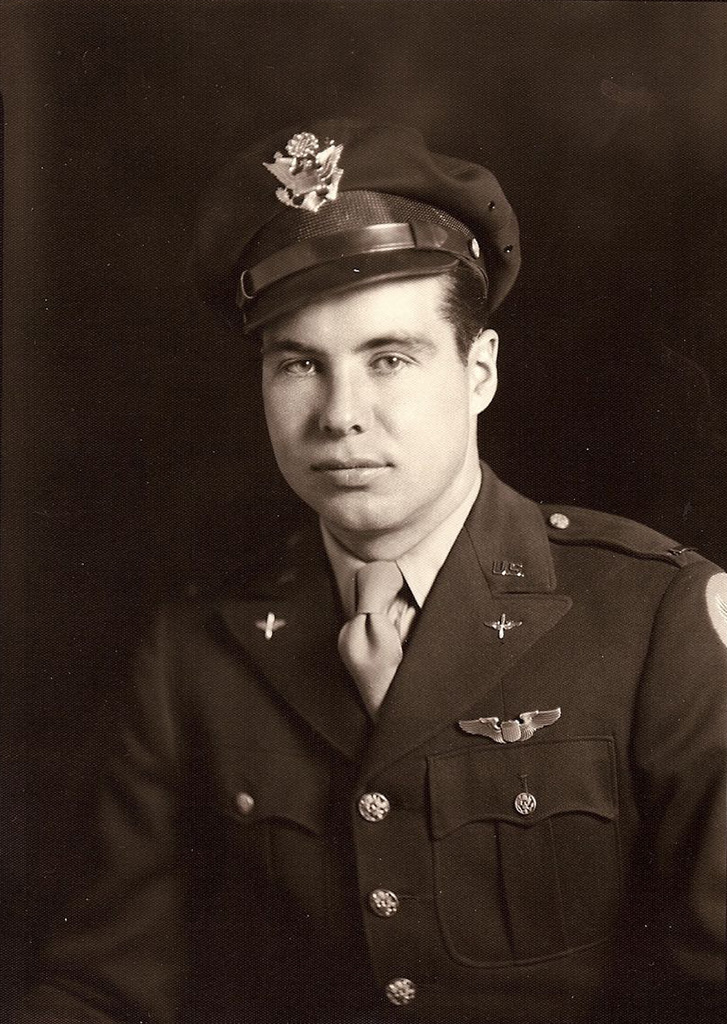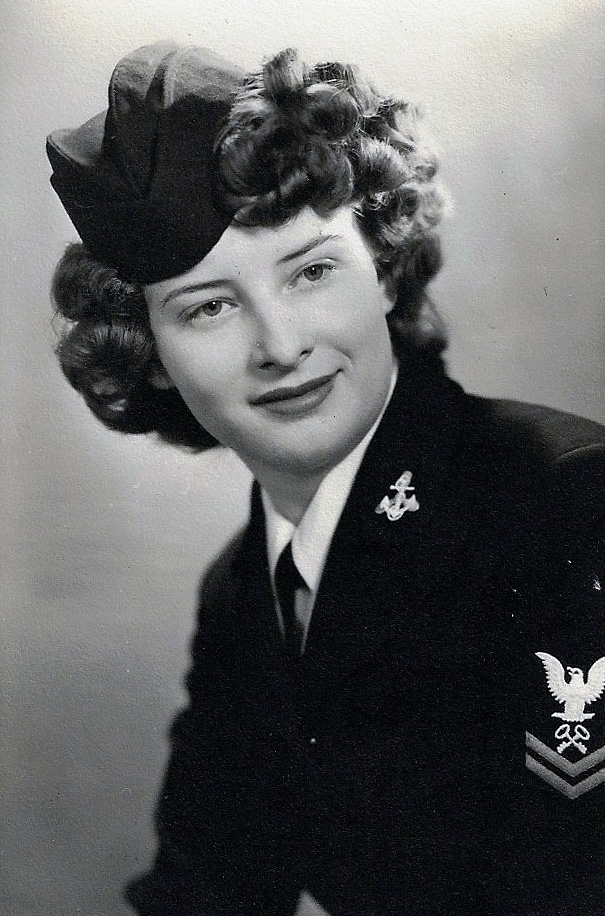 THE FIRST EIGHTY YEARS OF MY LIFE BY HELEN RAMONA JOHNSON BISHOP
I was born in Richfield Utah on April 5th, 1923 to Helen Daley, also known at Ellen Mildred Goebel, and to Linden Hyrum Johnson. I already had a brother Dale Francis Johnson who was three years older than me. We moved to Gunnison Utah when I was about three years old. It proved to be an unpleasant move a my parents divorced at this time and my brother and I were placed with a family named Petersons on a large farm, where I spent the next four years. Life was fun there and we both loved to ride horses, in fact I jumped off a race horse as he was galloping to the barn and he would have jumped a very high fence. I figured the best thing to do was to jump as I was riding bare back and it might have proved my undoing if I had stayed on.
Moving on, my father married Ada Peterson, one of the firls who worked in the Telluride Power Company with my father. This brought about another move when I was seven years old to Delta, Utah were my father became manager of the power company there. I of course was in second grade at this time and had to move into a new school. It was in second grade that I met my future husband; of course I didn't know it at the time. He of course was Floyd Bishop. Strangely enough we never dated each other until after World War 2. However we were in the same group of friends most of the time going through grade school and High School.
High School was a lot of fun, and I was in everything that I could be. I played the clarinet in the band, the drums in the Drum and Bugle Corp, and took lessons on the piano, also belonged to the Tappets, a group of dancers, and was Pred. of the Delta High Prep Club, beside being in various clubs etc. My step mother was wonderful to me and encouraged me at all times. She later had a girl named Bonita, and a boy named Larry who became my half sister and half brother.
After high school I want to BYU, and then the war broke out. I want to stay with my mother in Los Vegas and worked at Basic Magnesium for a short while. My brother Dale joined the Navy and became a torpedo bomber pilot, and since my father had also been in the Navy I decided the only patriotic thing for me was to also join the Navy, which I did in April 1944 and went to boot camp in Hunter college New York, the to Storekeepers school in Milligeville Ga. And finally ended up in Farragut Idaho where I served in an office until being discharged in 1946 after the war ended.
When I returned home I met Floyd again as he had been in the war also flying several types of airplanes. We dated and of course I made the best decision of my life and married him on Aug 26th, 1946 in the Salt Lake Temple. We went back to college at Utah State, but Floyd was recalled back to the Air force to fly in MATS (Military Air Transport Service). We were stationed at March Air Force Base for a short while then to Kansas when Floyd was sent to England for three months. I returned to Delta to wait for him. While he was flying along the Gold Coast he and his co pilot were forced to land in Liberia because they had run out of fuel hitting a palm tree on the way down and tore a big hole in the wing, however everyone got out safely. We was there for three weeks getting the plane repaired. There were a few hair-raising experiences with the natives while they wee there. But that is another story.
After Floyd returned to Salina Kansas we were sent back to March Air Force Base, where we were blessed with the birth of our son Floyd Paul Bishop. It was a wonderful as we had already lost our first son in childbirth. Our stay in Riverside only lasted about a year when Floyd, not having enough out of country service was sent to Greenland. He was there for about ten months, coming home for a short visit at Christmas time. When he left Paul was six months old and when he returned Paul was fourteen months old. We were sent to Mobile Alabama for Floyd to fly C124's. A very large cargo plane. He would be gone for a week or two at a time.
While we were in Mobile Alabama we were blessed with twins, a boy Patrick, and a girl Pamela, however they only lived a few hours. It was very hard on both of us.
We left the Air Force and returned home to Delta, then went on to Riverside California for a short time. We had another son born to us, Bradley Dale Bishop. Floyd applied to Air Traffic Control school and was accepted, so we moved to Stockton for a short time and then to Hobbs New Mexico. From thee we went to Oklahoma City and eventually to California where Floyd worked in the Air Traffic Control system until he retired. We continued to live in Sunol California and spent thirty-six years there.
Both Floyd and I served in various positions in our LDS church, and attended the temple often. Our son Paul has served as Bishop in the Newark Ward and Bradley has been in the bishopric in Peachtree City Georgia. We have nine grandchildren, and two great grandchildren. Three of our grandchildren have served missions, Jared in Columbia, Joanna in Greece, and Barry is now in New York on his mission.
Floyds health started to fail, especially in his legs and a out a year ago he had to go into a powered wheel chair and a mobility van to get around in. We decided a move was in order and he especially wanted to return to Utah. So we moved into our present home. My dearest friend and husband was only able to enjoy our new home for about six months when he suddenly passed away with a brain stem hemorrhage.
We have had a great life together, and have traveled in our motor home, we followed the Mormon trail, went to Alaska, been on cruises, on tours to England, Europe and China. My hobbies are oil and acrylic paining, and now it is my therapy.
Helen Ramona Bishop passed away on February 6 2010 of a heart attack. She lived a good long life and was a great influence on her family. She was stalwart and unflinching in her love for her family and her Heavenly Father.