Here are some pictures of my astronomy setup
.
I'm currently using the following equipment:
Telescope – Celestron 1100 Edge HD
this is an 11 inch Schmidt Cassigrain telescope with a focal length of 2800 mm F10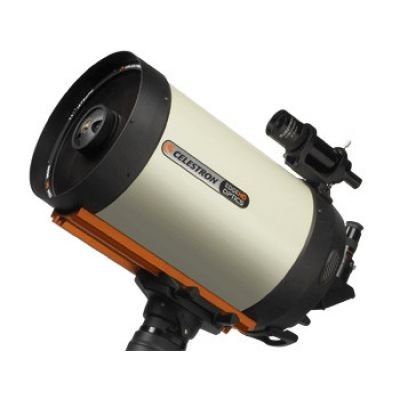 Mount – Celestron Cgem DX
this mount has a 50 pound weight capacity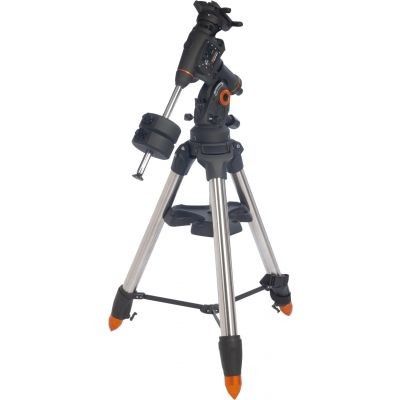 Guide Scope – Celestron 80 mm guidescope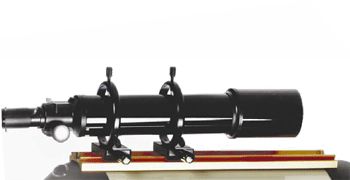 This is my Orion autoguide camera. It's used to help guide the mount for astrophotography.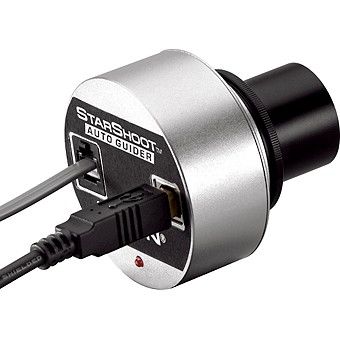 This is my ZWO ASI120MM-S Super Speed Monochrome CMOS Camera which I'm currently using for guiding, but this camera will take fabulous pictures of planets.
Like this:
Finder Scope – Telrad Finder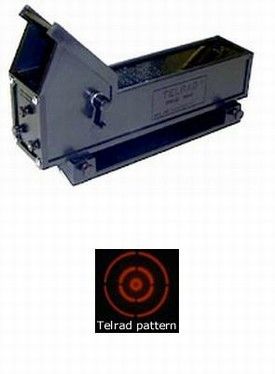 Camera – Canon 60Da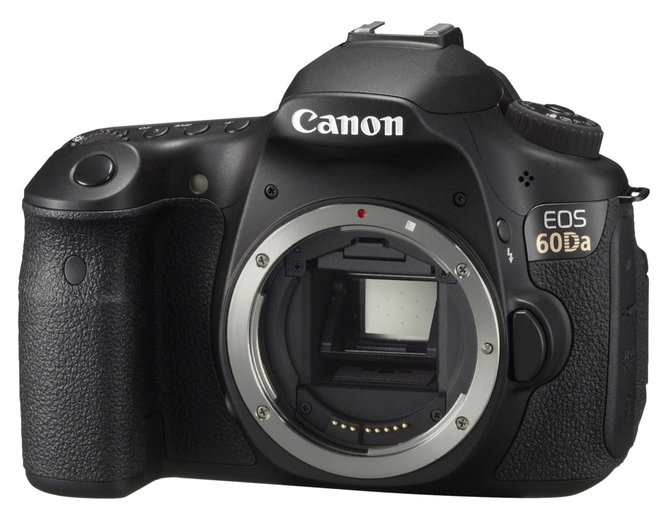 Celestron .7x Focal Reducer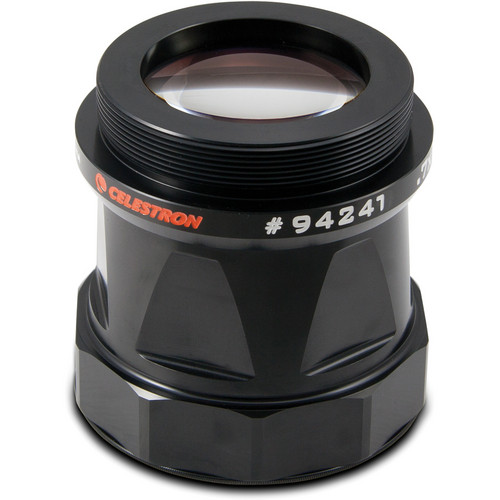 Scope Dolly – JMI large size wheeley bar with 10 inch pneumatic tires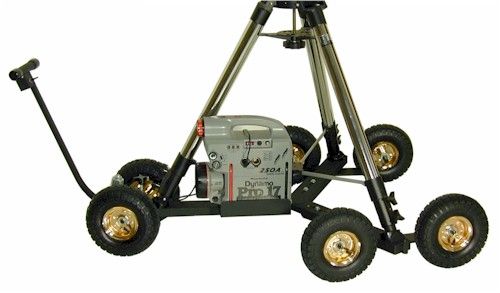 This first picture shows my telescope right after I got it in June of 2012. I haven't yet installed the 10 inch pneumatic tires. This version has the 3 inch plastic castors that were very difficult to move over even slight height variations in the concrete.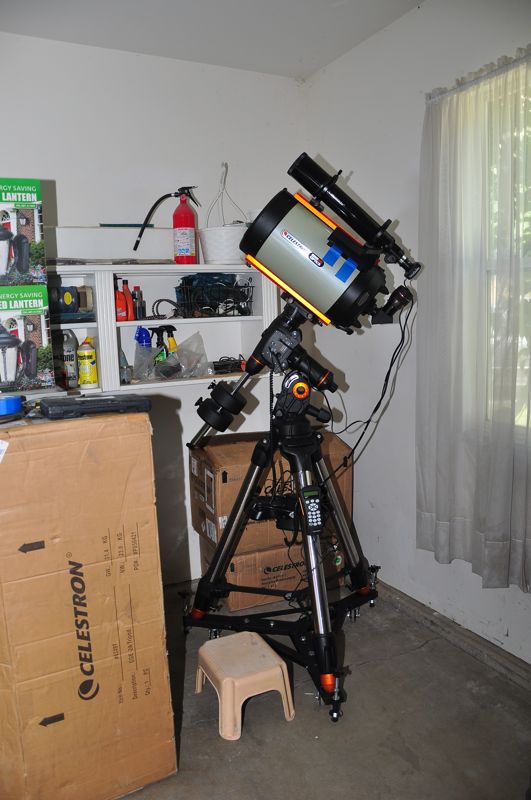 This picture shows the 10 inch pneumatic tires. A great improvement.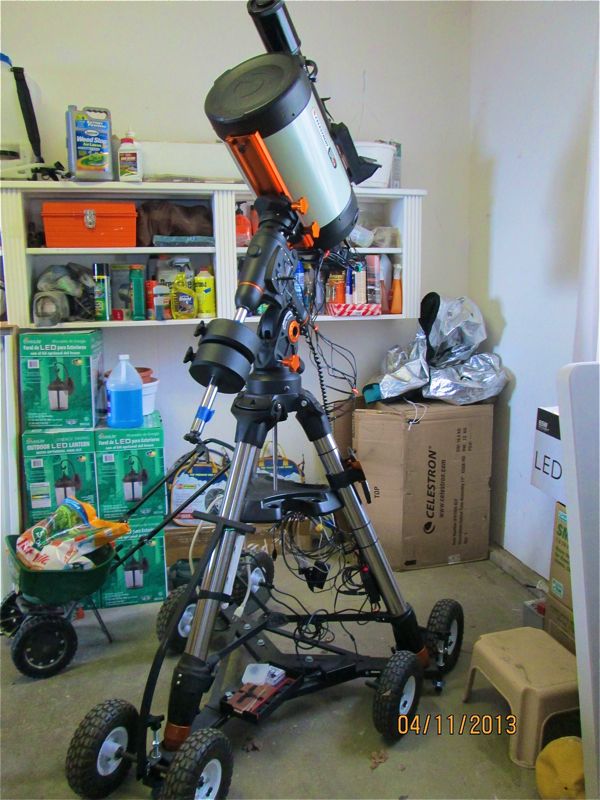 These pictures show the camera installation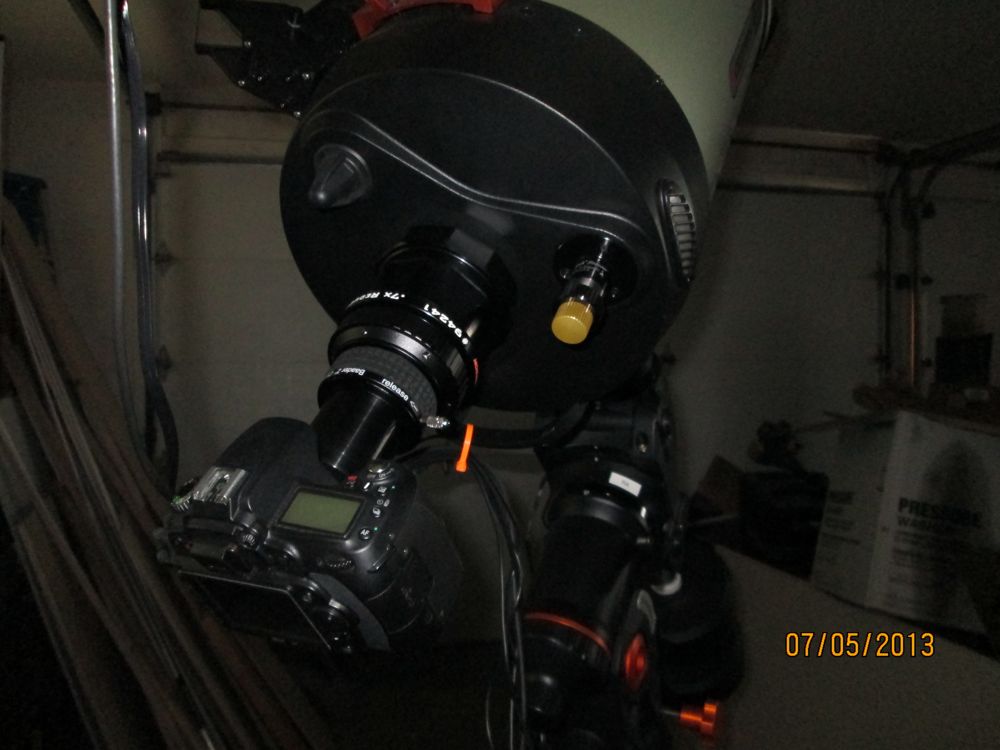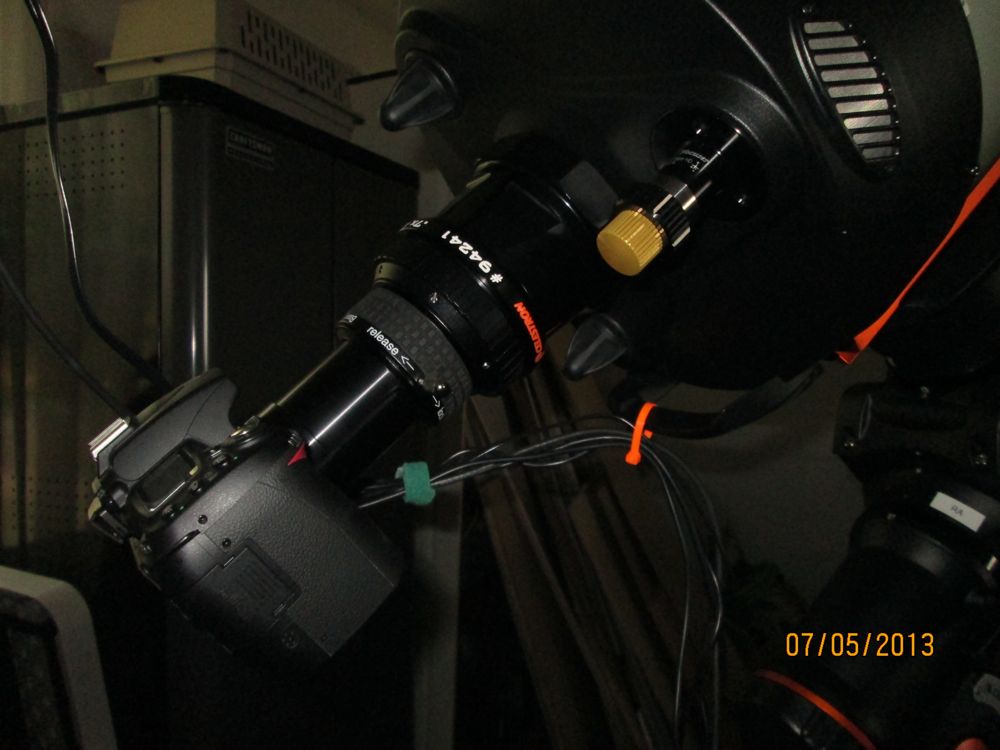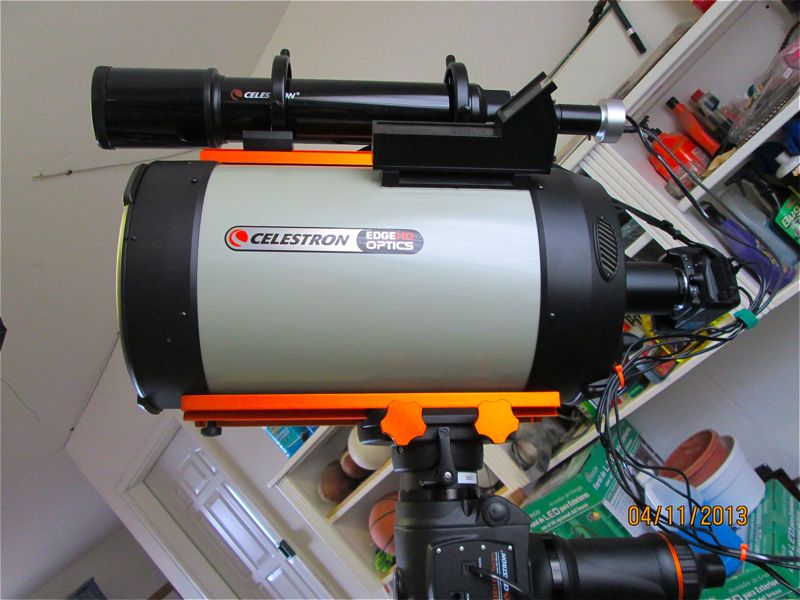 These orange pads are placed between the dolly jackscrews and the cement driveway to damp out vibrations.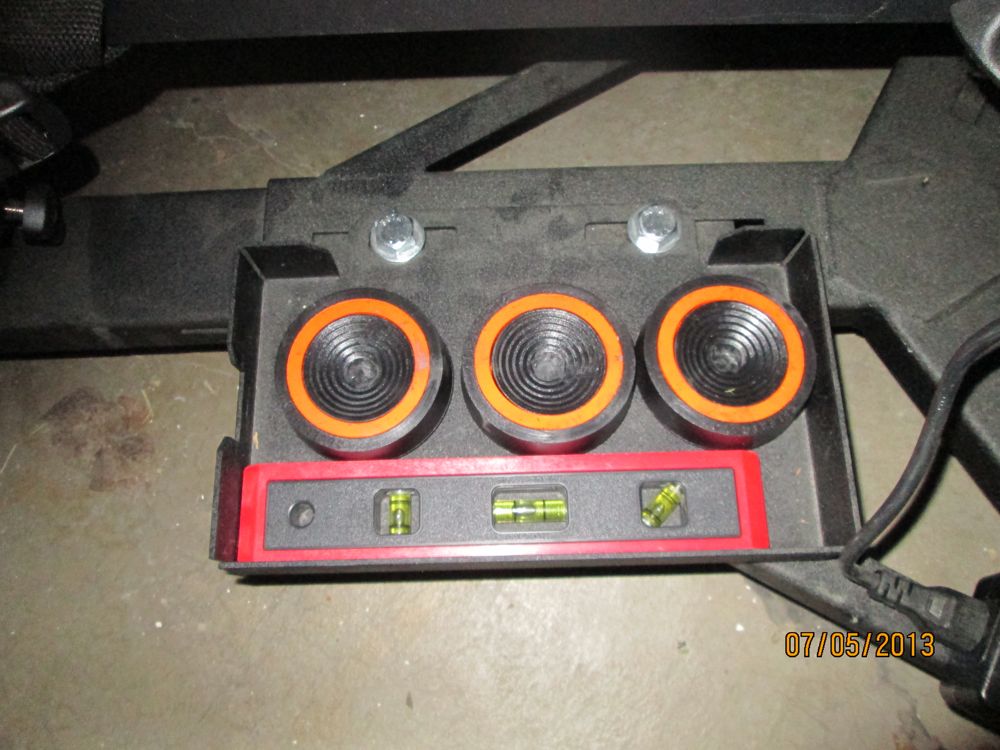 This view shows the telescope connected to my laptop. I can control all aspects of the telescope from the laptop. No more standing on my head to see what's up there.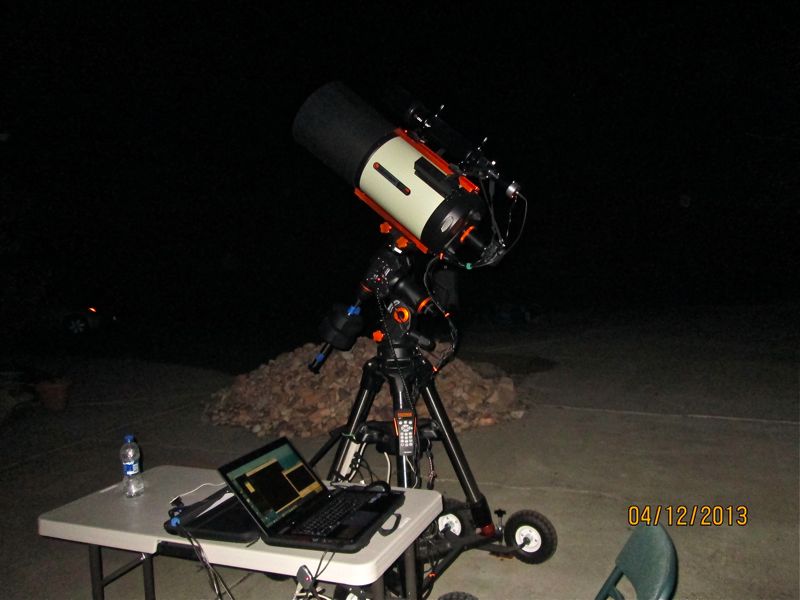 8-9-2013 Here is a picture of the installation of my new camera – the Canon 60Da which is specifically set up for astrophotography.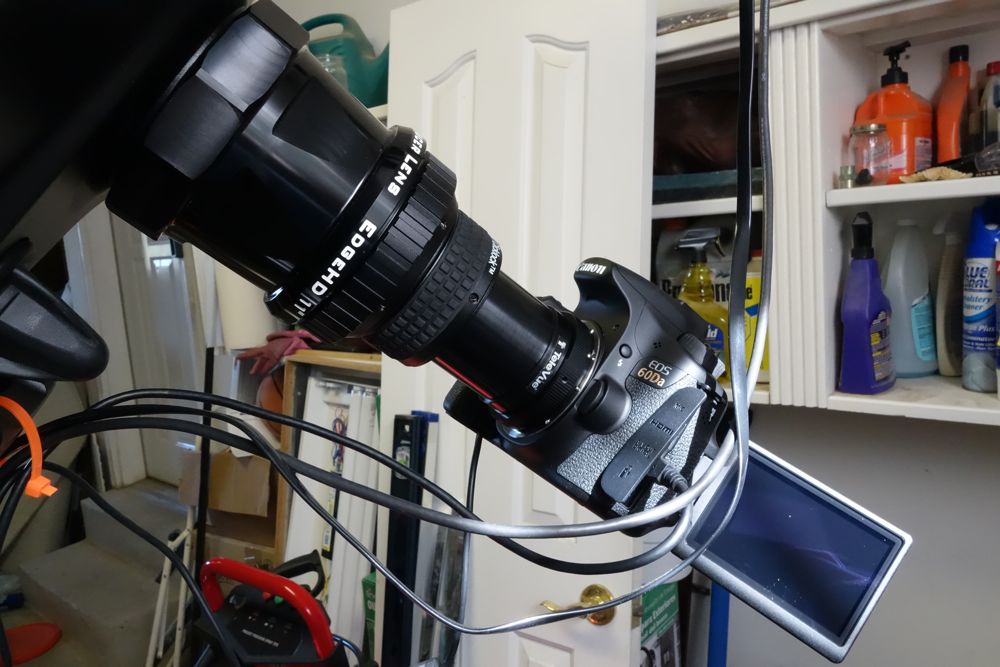 12/8/15 My 10Micron GM1000HPS mount finally arrived. It's made in Italy and will go a long ways to improving my ability to track objects in the night sky.
10 Micron are one the highest regarded manufacturers of high precision ultra high quality mountings in the business.
The GM1000 HPS features:
Absolute on-axis encoders in RA & Dec, featuring
more than 10 million increments (interpolated),
fully encapsulated and calibrated
•Provides up to 0.5" RMS tracking accuracy – for long duration UNGUIDED imaging – even at long focal lengths
• Closed loop (encoder controlled) satellite
tracking
• speed – up to 20°/s
and much much more!
Here are some photos:
11/5/2017 In the above photos you will notice the red object in the imaging train. That is my Moonlite CHL 2.5 inch large format Crayford EDGE focuser. It allows me to focus from inside the garage where it is warmer in those cold winter months. Here are some photos:
Here are pictures of my new astrophotography camera, the ZWO ASI294MC PRO.
The Sony IMX294CJK is the first internal imaging sensor for astronomical cameras to support the Type 4/3 format, producing the pixel output necessary for 4K at 120 frame/s (in ADC 10-bit output mode, the ASI294MC can run up to 25 fps at 4K format base on USB3.0 bandwidth). Additionally, the ASI294MC Pro uses large pixels to achieve SNR1s of 0.14 1x* which is comparable to the ASI224's (0.13 1x*) value.
This camera can cool the sensor up to 35 Deg C below ambient, and is much much more sensitive and noise free than my Canon 60da DSLR. As with any big change in operating – there is a learning curve. You will notice that my first pictures are rather crude – but they do get better as I learn how to manage the gain, cooling temperature, exposure etc. Also – no matter how good your eqjuipment is – if the visibility is poor the final pictures will reflect that. There are many nights here where the sky may look clear but the transparency is not good.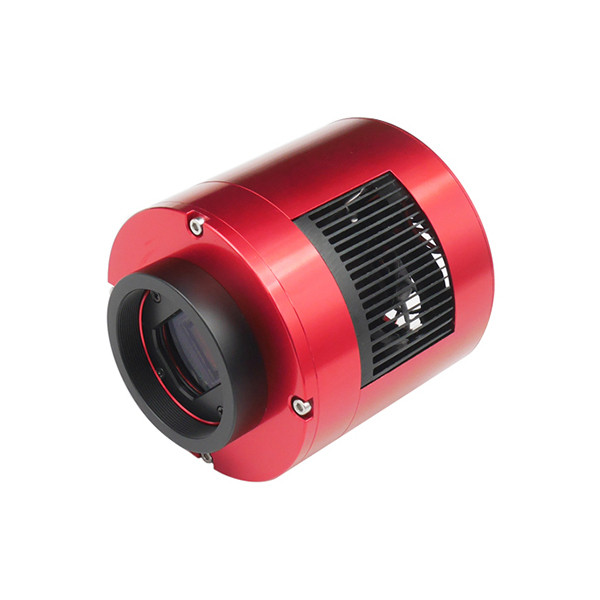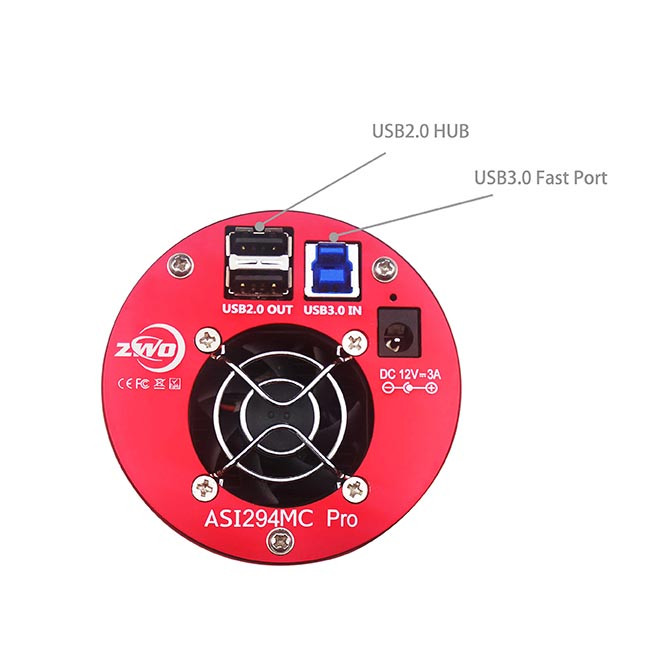 Late last year (2018) I purchased a Hyperstar version V. This allows the camera to be attached to the front of the telescope what is called the collector plate. The focal length went from a f/7 (with the Celestron focal reducer) and an f/1.98. This enables much shorter exposures and allows me to gather much more data in a shorter amount of time. Here is a picture of the Hyperstar V: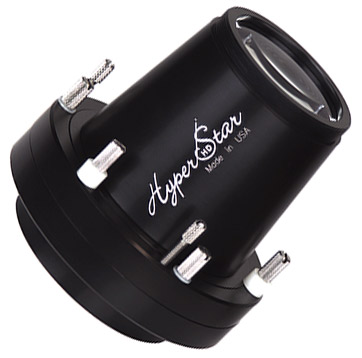 Here are some pics of the Hyperstar on my telescope.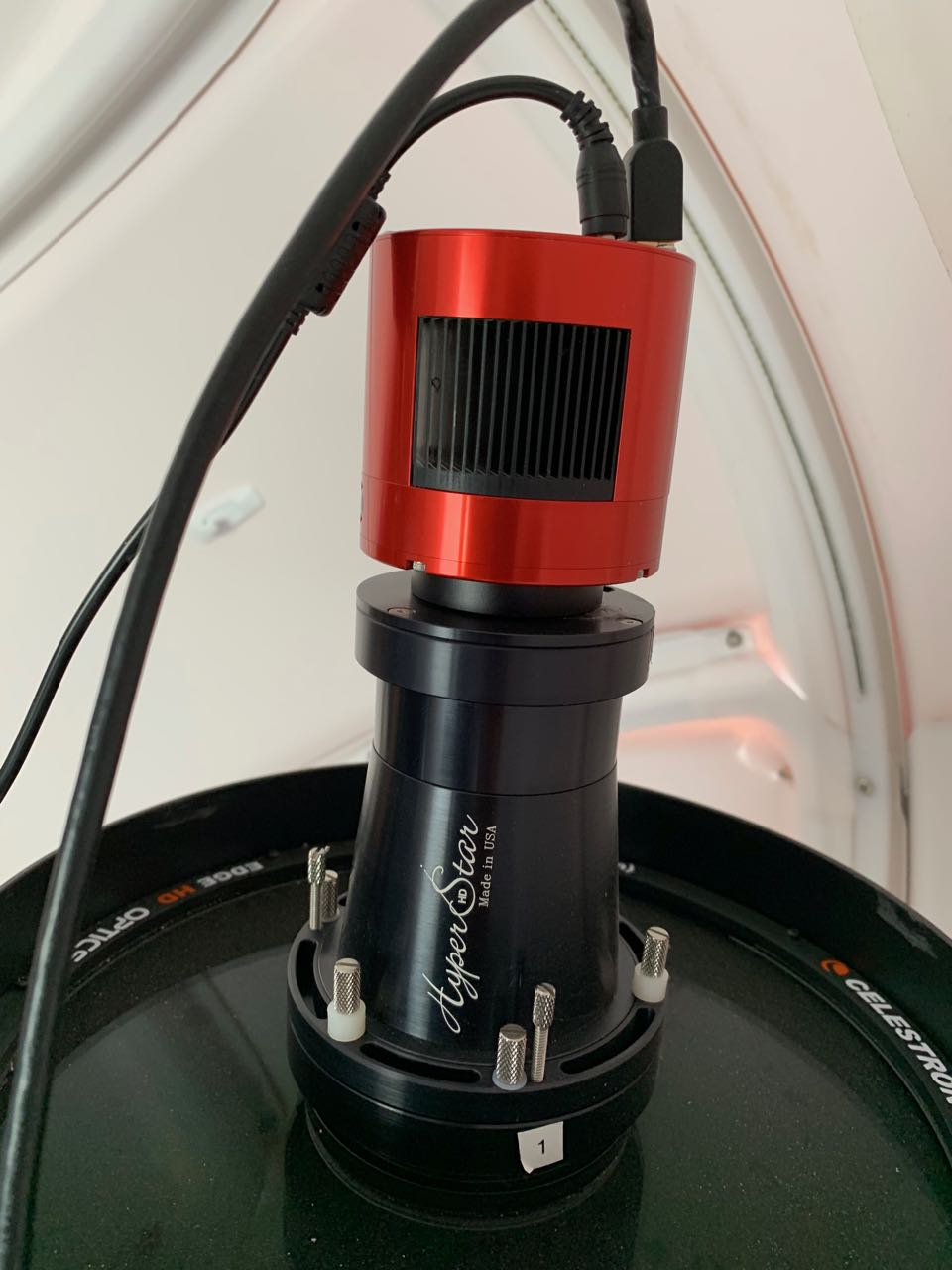 9/26/2021 Here are some more pics of the observatory.