1/25/2017 Here is a rather long (sorry) video of my model rooms (I have two now). There are a couple of errors in my narration – 1st is the F-16 cockpit – I mention that it's 1/4 scale when in fact it is 1/12 scale; 2nd is my 1/200 scale model of the Yamato is made by Nichimo not Fugimi as I say in the narration.
8/12/2012 Well a lot has happened since I last posted. I broke my hip and spent 13 weeks at home recovering. Then at the end of March of 2012 I retired and we moved to Provo Utah. We have spent the last 4 months getting our place ready and I'm ready to post pictures of my new model room. It's not big but there is is really set up nicely, and it's so much nicer than the garage setup that I was using. I have my spray booth ducted to the outside and inside the closet (under the stairs) is my model stash. On the wall where the tool chest sits there will soon be a custom built display case with enough room to display my models. I'm really excited to get back into modeling – it's been about a year now. My first project will the the Trumpeter 1/200 Arizona that is sitting on the bench. I'll post more pictures of the room as it gets finished.
1-15-2016
I've made some changes – removed the model paint shelves and added a shelf for my USS Silversides. The model paints and the shelves were moved into the storage room next to my office.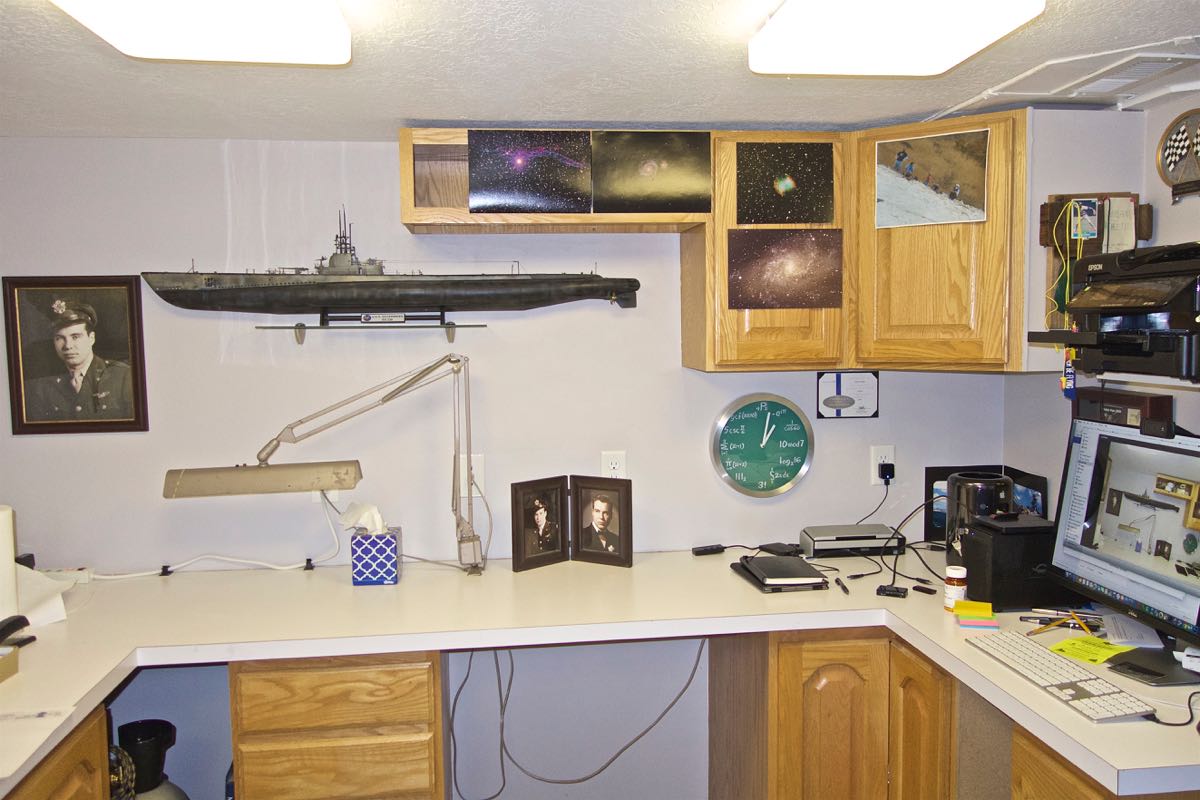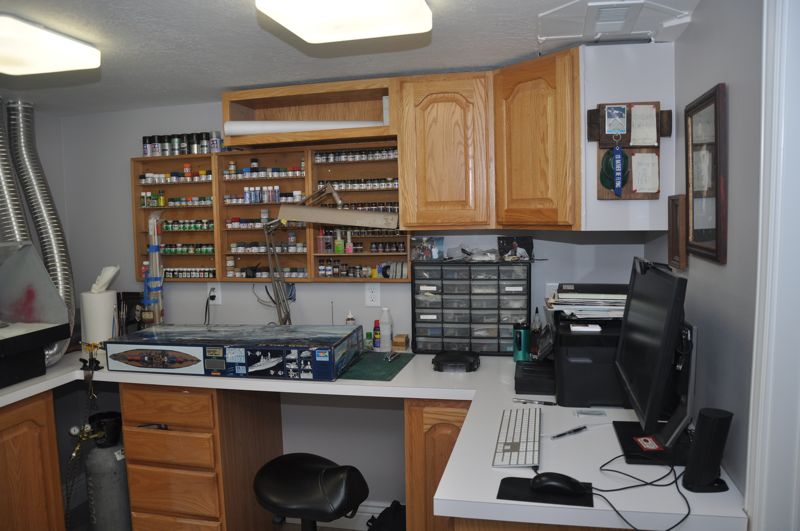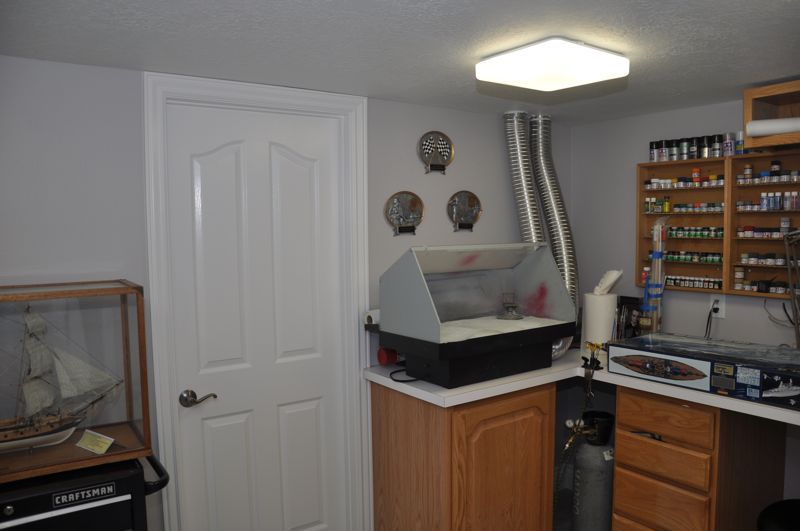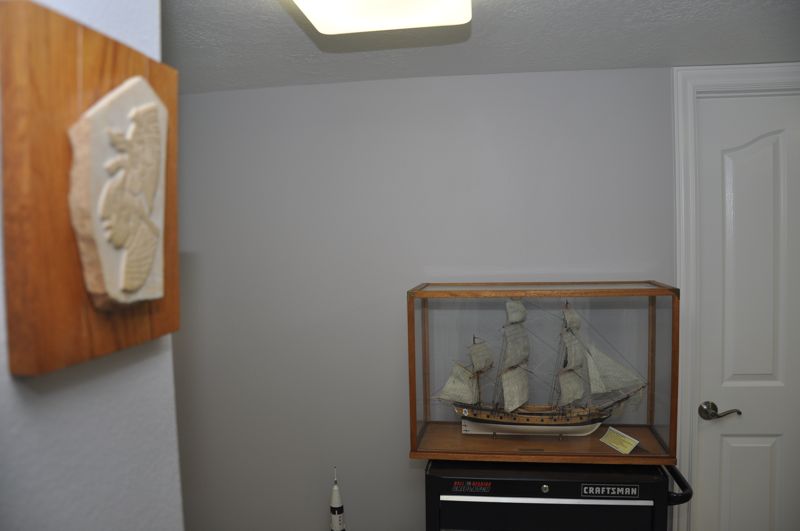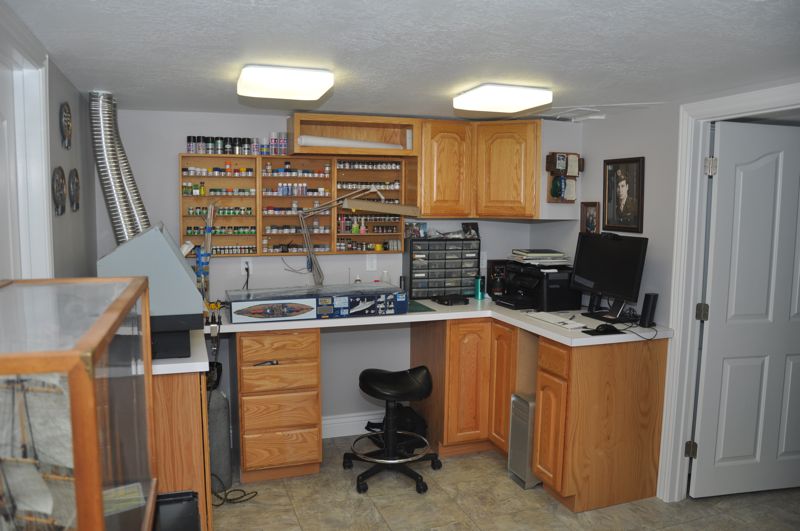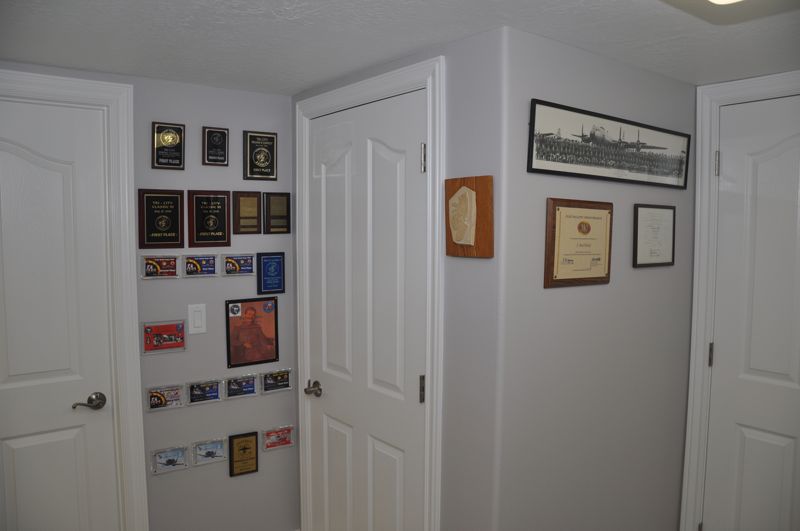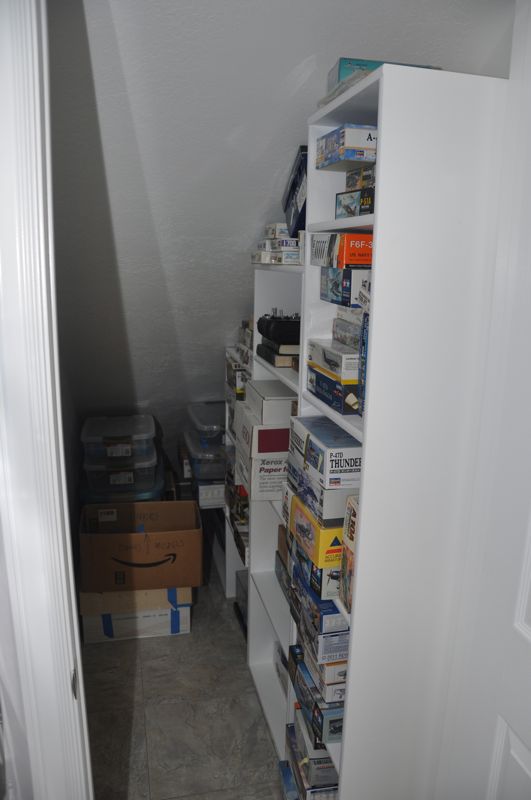 10/21/12 Here are some pictures of the room as it is now – the display cases are in but not finished.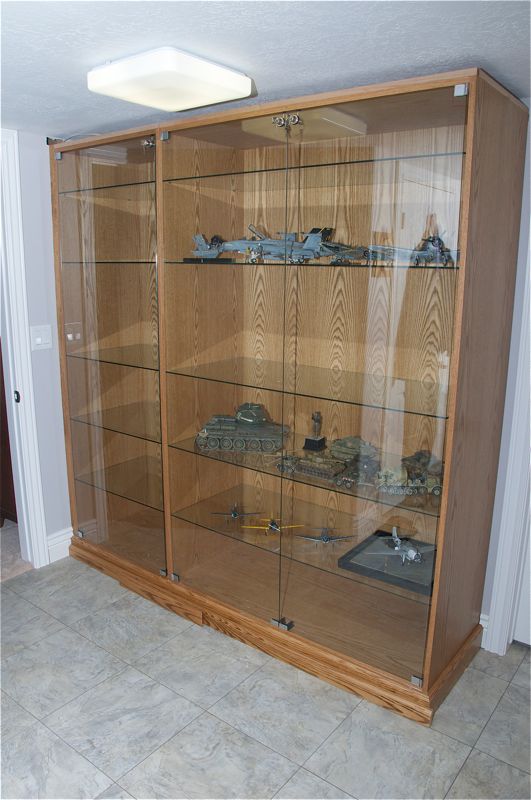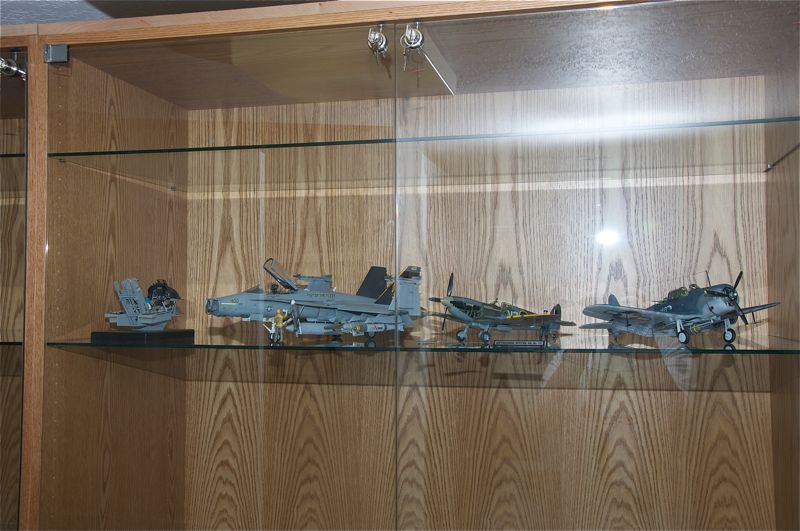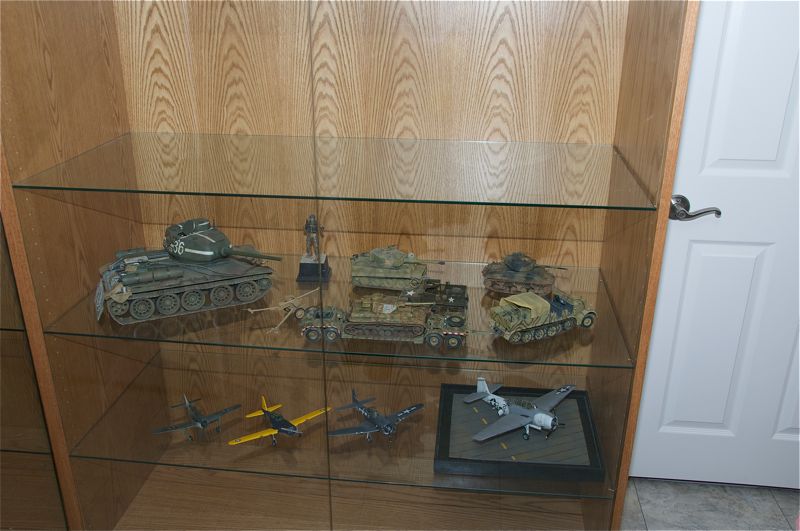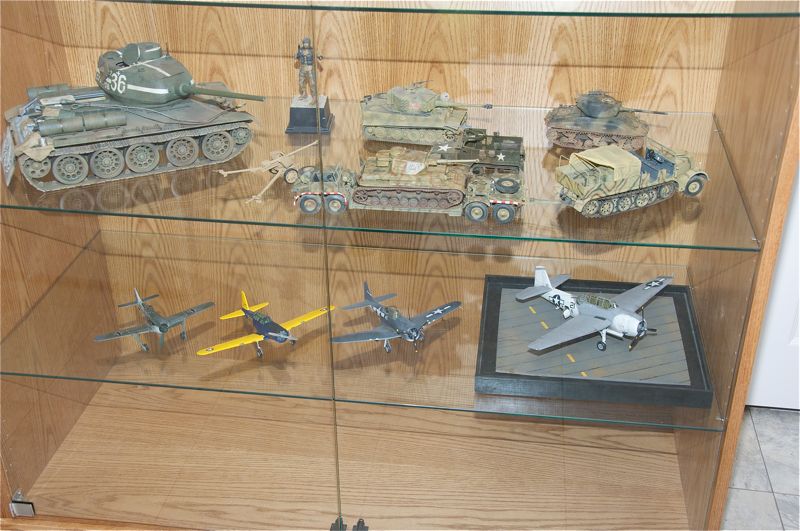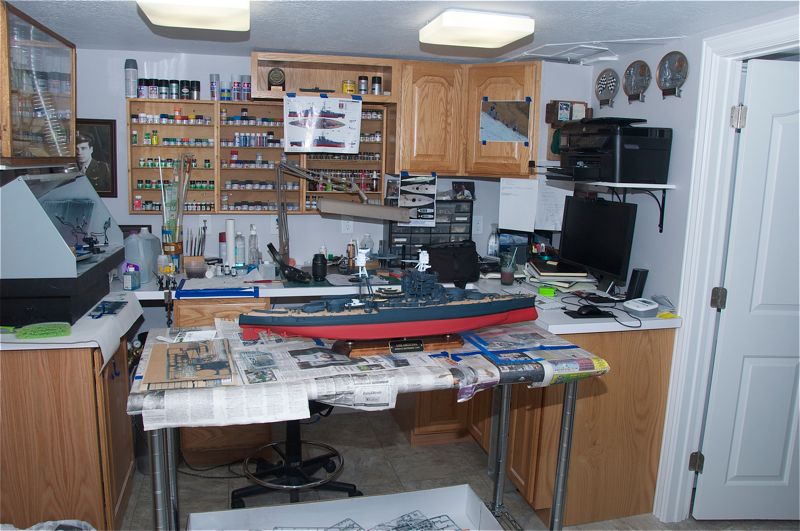 2008 Here are some pictures of my workroom. My beautiful wife insisted that I used the newly redecorated bedroom as my hobby room. Am I a lucky guy or what!!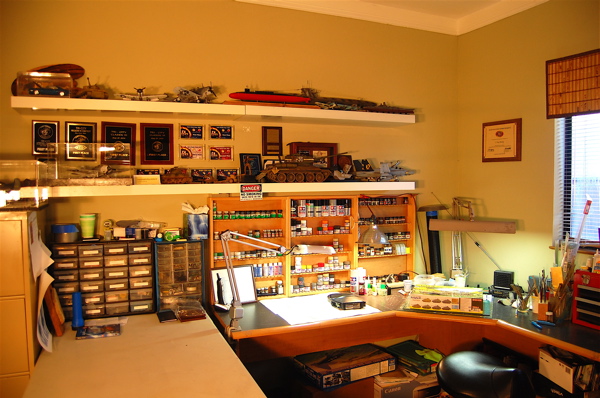 Here you can see my spray booth, to the right of that is my CO2 tank. Next on the right is my storage cabnet – I got that at Lowe's and it's great to store my stash of models as well as reference materials and odds and ends. My wife had a couple of mandates for my hobby room. It had to be decorated right – none of this college dorm room atmosphere. And it had to be kept nice and orderly – not junky. I'm still working on that.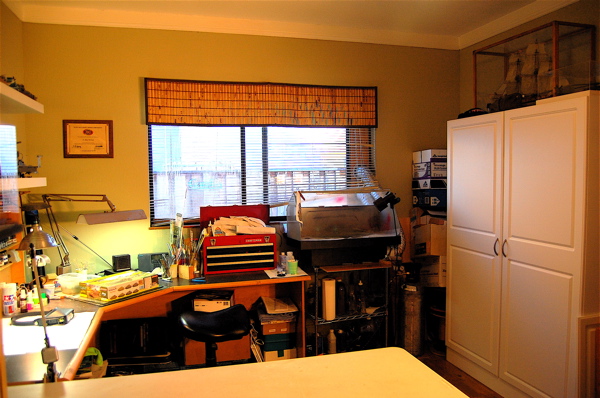 In the picture below you cans see part my paint storage shelves. I got these from the neighbors garage sale – they were used to hold cassette tapes – I just pulled out some of the partitions and rearranged some of the shelves. Then I glued the three shelves together for stability.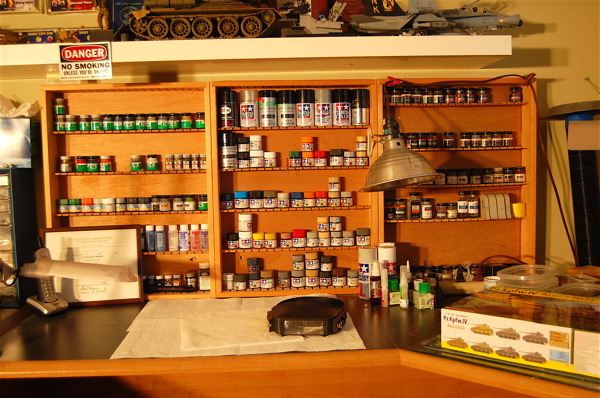 The table was my son's computer table. He didn't want it when he moved to Los Angeles – so I bought it from him. I've had that drafting lamp since 1968 when I was in college, some things just last and last. The chair you see here is the type used in hair salons etc. it has no back and is actually very comfortable. It's on wheels so I can move around quickly.
Here is some of my stash and library..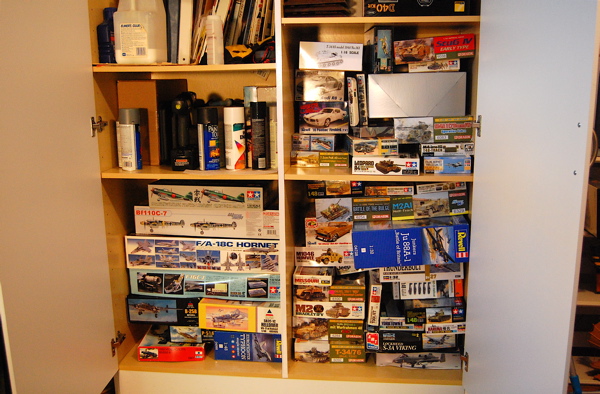 2-22-09
Here are some pictures I took while my son Barry was filming a HD short film that he will put online – when he gets a chance – well that never happened – lol.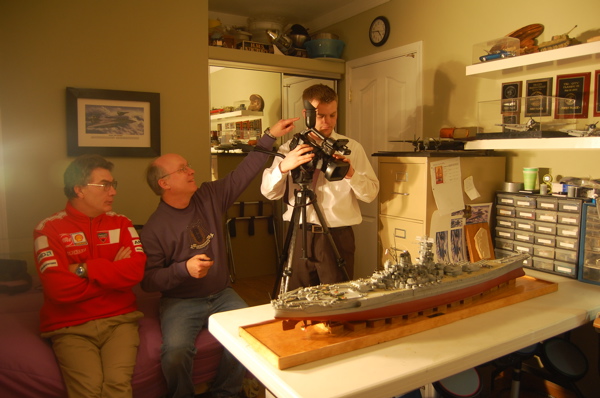 1-17-20
With the arrival of my grandaughter – my hobby room was lost to the new nursery. That's cool with me. My stuff went to the back yard shed for about 6 months and I took a break. That was actually good too. I had time to finish up a lot of stuff I needed to do. Now my new hobby room is finished in the garage. It's just 5 feet by 3 feet for the actual desk area with a side area for storage and my spray booth. Just proves you can pack a lot into a tiny spot. Here are some pics – I don't have the cabinet yet – it's on order.