Feb 21, 2010 – I attended the Model Expo 2010 in Petaluma California. I have attended this model show for the last several years but this was the first year that I did not enter anything. I actually haven't finished any models in the past year. I was also fighting a cold – so this year I could leave earlier. I was just looking forward to enjoying great model building and talking to friends from the model clubs I attend. It ended up to be that and a lot more. Following are some pictures that I took.
This picture shows the models I won in the raffle. I purchased $50.00 in raffle tickets. I just used the same $50.00 that I won in the 2009 show from 1st place in the speed build contest.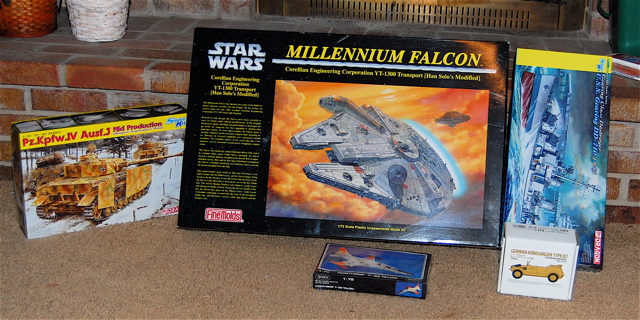 Left to right:
1. Dragon 1/35 Pz.Kpfw.IV Ausf.J mid production Aug-Sept 1944 Smart Kit. This is really nice and cost $49.55 at Great Models
2. FineMolds 1/72 Millennium Falcon. I believe this is out of production. About 900 parts and quite rare from some reports. This model looks absolutely fantastic!!
3. Dragon 1/350 USS Gearing DD-710 Smart Kit. I this a very nice kit and is selling now at Great Models for $44.75
4. Down in front a little model by Starfix in Israel of the Northrop T-38 Talon in 1/72. This is out of production and sells for $.99 to $3.25 on e-bay.
5. This is a 1/48 scale German Kubelwagon Type 82. It's a finished model and really nice – except the windshield is broken off. That's a simple fix. I can't see who makes it other than the Philippines.
Here are some more pics of the Millennium Falcon: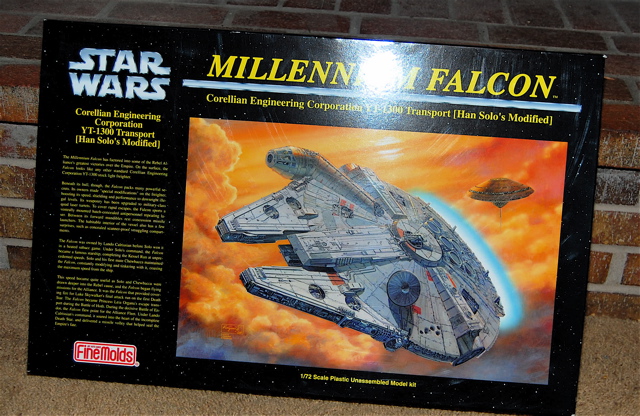 Here's a photo of me holding the Millennium Falcon – this is a seriously big box!!!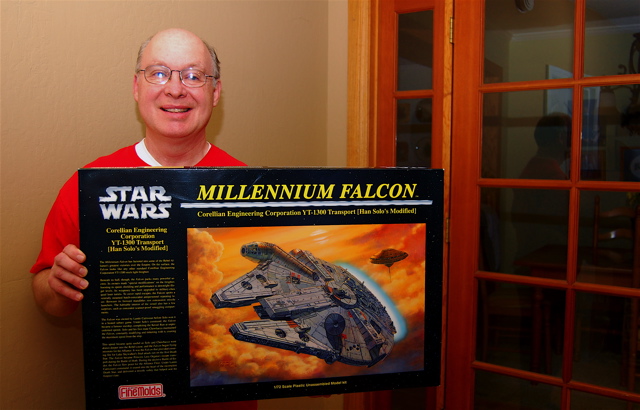 I also bought a 1/48 scale model of the FM-1 Wildcat by Hobby Boss. This is the jeep carrier version of the F-4F after the fleet carriers were converting to the F-6F. This is a great model that I bought for only $8.00 – a bargan. See the pic: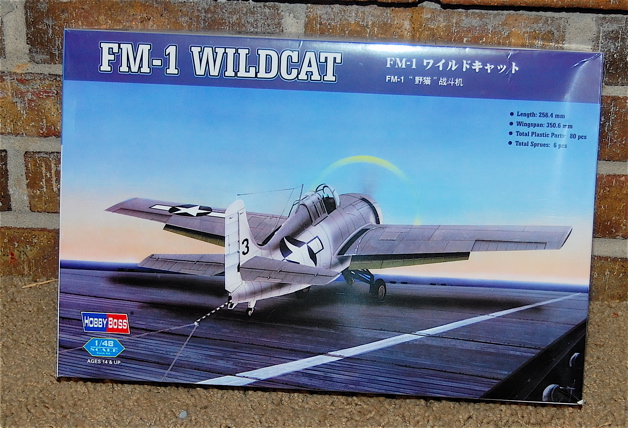 And now here are the other pics I took of the really fantastic models at this show…