When I decided to model my Yamato for it's last sortie – I found that I needed several deck edge AA turrets as well as some parts that had become lost. No turrets were available anywhere so I decided to cast my own. I went to TAP Plastics and got the stuff I needed. I used their silicon RTV mold making system. A little pricy, but once you have the stuff you can do quite a bit of casting. First you need to make the mold. I took one of the turrets I needed to duplicate and put it in a small plastic box that I had lined with double stick tape on the bottom. Then I mixed up the mold solution and put it in a paper cup. The cup was taped to the edge of my workbench over the container which I placed on the floor. I cut a small hole in the bottom edge of the cup so a thin stream of mold solution would stream into the container. This method will keep air bubbles from forming in the mold. Once the solution has emptied into the container – let it set overnight. Then remove the mold from the container and the turret from the mold and there you have it!
Then you just need to mix up the casting solution and pour into the mold – wait an hour or so and you have your new part. This is the really simple way to cast parts without using a vacuum container. The mold won't last forever and there is a real limit to what shape of parts you can do with this, but it worked really well for the stuff I needed to do.
Here is a pic of three molds I made and some of the parts cast from them.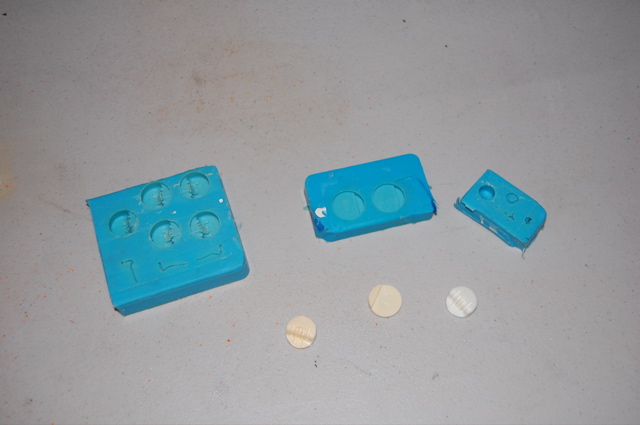 Here is a pic of the mold rtv and casting resins I use.